Many small railroads run passenger service in addition to their freight operations. For some companies, this might mean a couple of trains a year for the holidays. For others, it might mean multiple trains a day for 200+ days a year.
The Passenger Excursion Ticketing Rail Operations and Customer Service (PET ROCS) system has been designed with both of these types of operations in mind. For the occasional operator, the powerful features, combined with the low price, ease the burden of running these types of special trains. For the scheduled operation, PET ROCS provides an economical tool to manage the multitude of ticketing and passenger management issues, while for the taxes management using tools like a tax payment plan is the best choice for this.
The system manages your reservations and ticketing, seat inventory, train consists, payment management, refunds, train crew paperwork, point of sale ticketing, and revenue reports. The system can be customized to the user's requirements, and does not require a web connection to operate.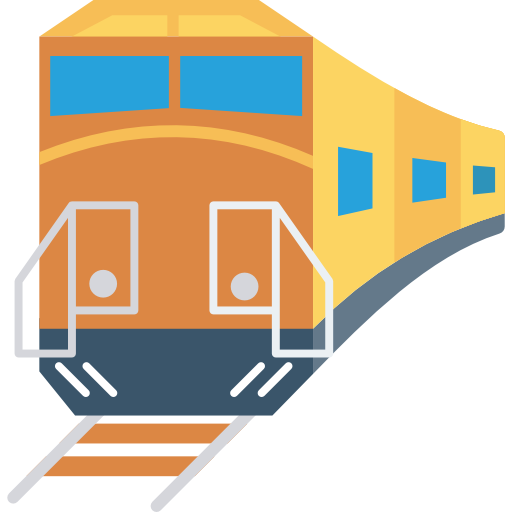 Scale-able for low to high volume

Customized to the user's needs

Powerful Features for a Low Price
Main Screen
The main screen shows all of the tools available to the user in the system. The functions contained in the white box are all per train functions, and the train is selected in the boxes to the left of the white box.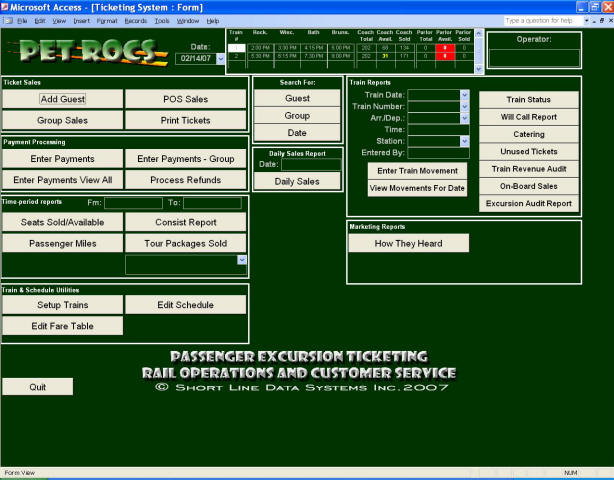 Seating Chart
The person taking reservations can assign the seats for the guests by simply clicking on a open space on the seating chart. Seating in individual cars can be set up with seats that should not be sold to allow passengers to spread out (seen in orange on the seating chart above). If different classes of service are available, then only the seats available in that class on that train will be visible.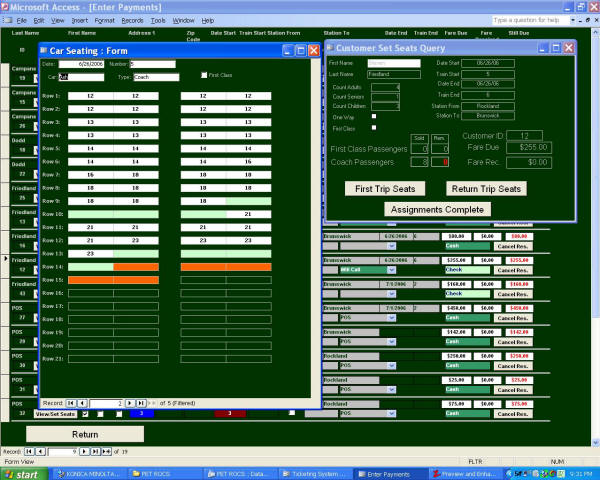 Payments
The payment management screen allows the user to enter payments by customers, cancel reservations, print and prepare tickets for mailing or pickup, and edit customer seating.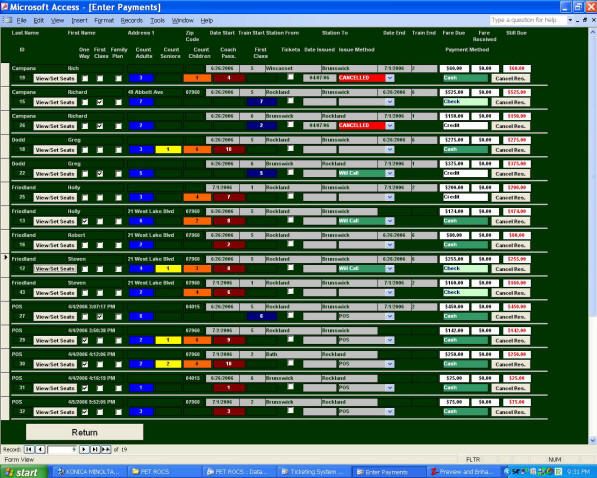 Let's Work Together
Short Line Data Systems
5 Westminster Place
Morristown, NJ 07960
Phone: 973-898-1346
Fax: 973-898-1568
Email: sfriedland@sdsrocs.com